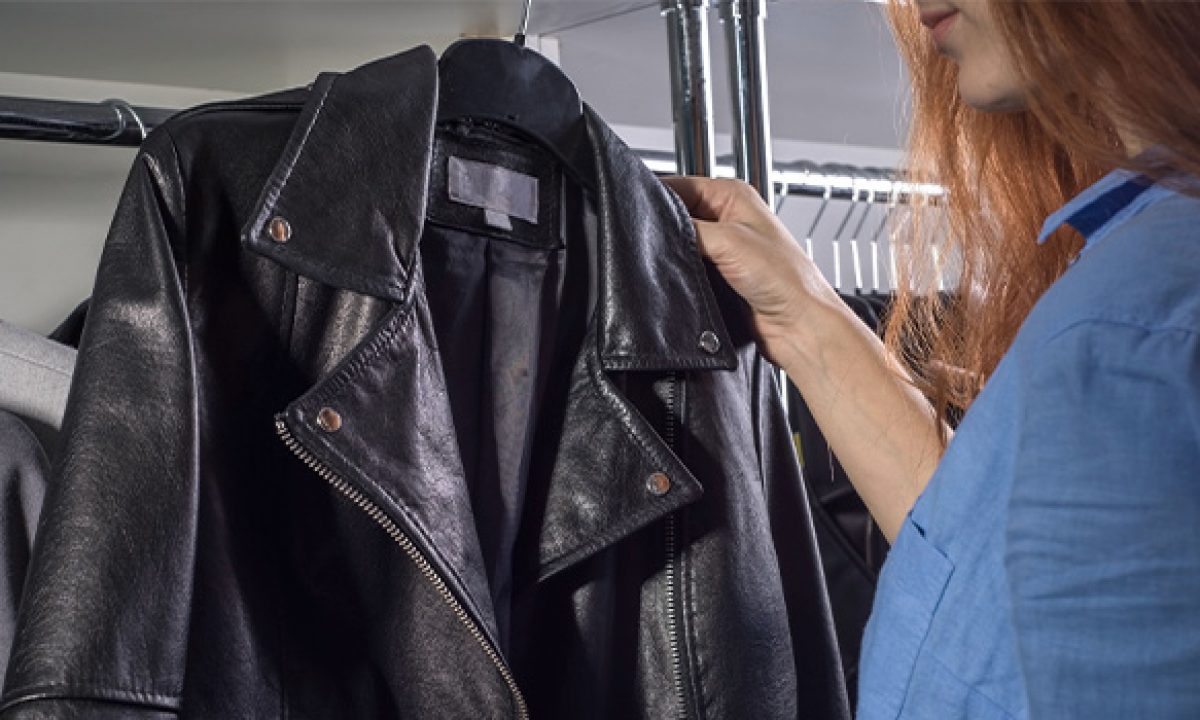 General Care
First things first, a well shaped coat hanger is recommended. Leather garments should ideally be stored in well aired wardrobes or locations and ideally not crushed into the back of the cupboard, unless you like that look, which incidently is very fashionable and if you are interested we do have a number of fashion biker styles that you can actually scrunch-up in a ball and store to ensure that the full creased effect is kept-up. Key point number two, never keep nor store leather or sheepskin garments near a direct heat source such as a radiator, fire, boiler, hot water tank (airing cupboard),AGA or Rayburn or in view of direct sunlight for any prolonged periods. Remember that high heat sources will dry out and potentially discolour leather and sheepskin, this is also the case for natural woods and other natural materials. Wearing your jacket or coat on a bright sunny day will not affect the garment, this is the natural environment within which it evolved and so is ideally suited to the outdoors. The issue arises when the heat and strength of direct sunlight is magnified through a glass window and directed on a high intensity to a single focus area of the garment over a prolonged period.
Sealed nappa leather can tolerate only a very light and short shower, cowhide is a much denser (and hence much heavier weight and not as soft) and thus less permeable to moisture. In reality the only outer garments that are recommended for wear in the rain are either rainproof coats such as Trench coats and Mackintoshes made from very tightly woven materials that repel rain, waxed coats, waterproof jackets. It is not recommended for the leather to get soaked through in water or rain. If this happens it is important that the item is able to dry-out naturally in a well ventilated room and never be tempted to move it onto a radiator, boiler, hot water tank or the like nor place close to a fire to speed up the process. This will only harden the leather and it might then be impossible to soften it back to how it was before the heat assault. Patience is very important here, I once spilt a half a litre of water in my beautiful nappa leather handbag and it took 3 days to dry out. I was then left with a white water mark demarcating the level up to which the liquid had risen up the side of the bag. I used the Letap nourisher cleaner product and the mark slowly disappeared with two or three applications, I still have and use the handbag. If suede or nubuck gets absolutely soaked then a brand new sponge or very soft clothes brush may be best to restore the outer nap, however be very careful not to over brush as this will just wear the nap down unevenly, but then again some of us might like this more worn look.
Care products are available to increase the time it takes rain droplets to permeate through the surface of the hide, further information is located below and with the leather care range located within the Men's and Women's ranges.
Care Products
Whilst both nappa and hide leather finishes are durable and typically very low maintenance if you are keen to keep your new leather purchase looking its best for years to come then we would suggest a good quality leather nourisher cream (also known as leather food or hide food). This will help to keep the leather supple and probably only needs application once or twice a year in the UK depending on how much the jacket or coat is worn. A good quality leather nourishing cream will usually also combine light cleaning properties. Quality shoe shops and cobblers sell leather creams that will nourish the leather and also clean it. The product will give directions for use.
Generally nourishers and preservers are available in a colourless or coloured versions. We only carry the colourless versions as one suits all and it will not leave a colour residue on upholstery or clothes after use. There are also very good quality coloured creams which will both nourish as well as help to restore colour on scuff marks and, or heavier wear areas where the colour has worn away. Coloured leather creams should not leave a residue that will rub off with wear or come off on upholstery or clothes, however we cannot stress enough the importance of reading the instructions before use and checking on the product label or with the manufacture whether it is safe for use on apparel. Always ensure you test any care product on an inconspicous area of the garment first, this applies to any of the products that we carry also!
Protector guard sprays have bee primarily designed for use on suede, nubuck and sheepskins with either of these finishes. These will help reduce the penetration of moisture and thus reduce potential marking on the surface. However the application needs to be kept up on a regular basis to maintain the protector benefit. Please always read the instructions before use.
If leather gets wet it is very important to allow it to dry naturally in a well ventilated room or area, however not in direct sunlight as the heat can be too intense. NEVER put any leather, nubuck, suede or sheepskin near a direct heat source as this will more than likely harden the leather as it will speed up the drying process and thus dry-up the natural oils within it. A jacket or coat needs to placed so that it can dry and retain its shape whilst dying out naturally, this can be quiet a challenge so turning the garment over frequently is important! If soaked through and heavy with water it should not be hang-up as the weight of the water will stretch it out of shape.
Nappa & Hide Leathers
These typically have sealed finishes which reduce the ingress of moisture particles and so these are the most easy to care for with cow and buffalo hide being the most robust and tough wearing. Generally black and dark brown nappa and cowhide do not show up marks easily so they are pretty easy to care for. Nourishing creams and specialist leather cleaning applications can be used on sealed nappa and cow and buffalo hide leathers, just remember to test any product on an inconspicuous area first as we are not responsible for the manufacturer's formulation.
Aniline Leather
Leather creams are generally NOT suitable for aniline nappa leather as this is an unsealed leather surface. Aniline is made from top quality lamb skins and the leather undergoes a wash process to give it an extra soft silky feel. Aniline leathers usually have a more matt colour finish. Age will enhance aniline leather by adding character to it. Aniline leather is great for a cool and classy look with a subtle vintage come antiqued feel. Some protector sprays can be used on darker aniline leathers such as black, brown, purple, aubergine, However take care to spray very evenly. On lighter tan colours the protector spray may visibly darken the colour shade so be aware, also take extra care to spray evenly (i.e. do not over spray or patch spray).
Nubuck, Suede, Sheepskin and Brushed Leather
These leathers share the same characteristic brushed matt finish where the surface of the leather has been milled to produce short nap similar to velvet or a flat matt nap. Nubuck has very soft touch similar to a very soft fine velvet. Suede has a thicker chunkier nap that produces shorter fatter hair like structures, similar to a coarser velvet.
When caring for your nubuck , suede or brushed leather garment we can share the following tips:

It is always best to have clean and dry hands when handling.

If you should get caught out in the rain the nubuck, suede should be fine in a very light rain shower for a very short period. It is best to allow the coat to dry naturally and not to place it over heaters or radiators. If heavy persistent rain should fall it is best not to expose the coat if possible, if however you should get caught then again allow the coat to dry naturally in a well ventilated and warm room, but do not expose to a direct heater source. Once the coat is fully dried a light brush with a high quality soft clothes brush may be needed.

Nubuck / suede soft cleaning sponges can be used where marks appear however these must be used with caution as these can cause abrasion and make the area look worse. Very light brushing using a high quality SOFT bristle clothes brush can be used to reduce / remove marks.
The use of wire brushes is not recommended as these are very abrasive and will damage the nubuck and suede.
Good quality suede and nubuck protectors can be used. Our experience with protectors indicates that you need to spray them very regularly to keep up the protection.
Nubuck and suede should maintain its charm and character for some years. Ideally keep the garment in a well ventilated room/area and away from radiators and heaters.
Sheepskins
There are four main finish types for sheepskins and lambskins as follows:
Suede - an unsealed finish with a coarser nap

Nubuck - an unsealed finish very fine and extra soft nap
Semi-Sealed Nubuck - this offers a very low level resistance to very light short rain shower.
Nappa - a sealed soft leather finish
If you should get caught in the rain the factory finish will reduce water penetration in a very short light shower. If caught in a shower ensure the jacket or coat is shaken to lift off water sitting on the surface. Do not dry on a radiator, fan heater, heath source or in front of a fire. Hang the coat or jacket on an appropriate coat hanger (i.e. shaped and wide) or lay open with the outside surface exposed to the room over a heavily padded arm chair or sofa, always paying attention to not hanging the coat or jacket over a narrowly shaped edge that may push-out the garment's shape over the period of rest, and allow to dry at normal room temperature. Once the jacket, coat or gilet (waistcoat) is dry use a soft clothes brush or dry sponge to dust off rain spots that may remain.
If caught in a heavy rain it may be advisable to turn the garment inside out and wear the wool fur on the outside as this is better designed by nature to shrug off rain (this is the original exterior wool surface of the animal pelt). However please bear in mind that sheep constantly produce lanolin oil which coats their wool to help it repel water, the sheepskin will not continue to top this up.
Small grease marks may be removed by dusting the suede surface with powdered blackboard chalk. For more stubborn stains, specialist dry cleaning may be required.
Sheepskin is a natural product and it is quite normal for it to shed fine particles when new. Don't worry, excess shedding can be reduced by very softly brushing the surface with a soft clothes brush that is not abrasive. A clean and soft upholstery attachment on a vacuum cleaner can also be used to vacuum off excess wool shavings from the tailor's cutting table.
As with all natural materials including real sheepskin and leather there is always some variation from skin to skin and even within a single skin (i.e. same skin). These are characteristic marks which are not found on artificial substitutes that are synthetically made.

To reduce the level of ingression of liquid droplets such as rain and surface marks you can choose to use a spray guard protector (these are produced from similar treatment methods to the original skin). However please ensure you always read the instructions before use, test in an inconspicuous area and also ensure a very steady spray technique and it is ESSENTIAL that the can is rigorously shaken before each spray as this helps to keep a fine spray mist and helps to avoid large spray droplets. Large spray droplets typically occur when there isn't sufficient pressure in the can to maintain a fine mist. When spraying with a protector guard light colours will then appear a slight shade darker, hence why it is so important to spray all the area and also maintain a fine spray from the can in each single horizontal stroke. It helps to only spray one side of the garment at any one time, i.e. back panel only or front panel only showing / exposed to spray can. When spraying steady and smooth horizontal strokes may work best.

Care of your garment will ultimate reward you with a long life, however depending on ongoing level of care from time to time it may require dry cleaning by reputable dry cleaners.
The above is a common sense approach to looking after your sheepskin and lambskin garment, it is a free guide and Ultimo Fashions UK accepts no liability for the use of any of the contents and or interpretation of the guide. The information above is based on guidelines given by producers or fine quality sheepskin and lambskin garments which have been handed down over the decades.